It takes about 0.5 of a second for a person who lands on your website to decide if they like your site or not, whether they are going to stay or leave, whether they will give your small business a chance. Good User Experience (UX) starts with first impressions, but it doesn't stop there. The goal of UX is to make sure every aspect of a visitor's interaction with a website is positive, from the moment they arrive, to even after they leave. If a visitor to your website is happy, they are more likely to buy your products, return and tell their friends about it.
This sounds like a daunting task, but in this post, we go through a few of the more crucial components of good UX. As the name suggests, the website user is central in each component: their goals, their abilities, their expectations, their feelings and so on. Each UX component is multi-faceted and all are intertwined. Consistency is key throughout.
1. "This site is so easy to use, I don't even have to think about it." — USABILITY
This is what comes to mind first whenever UX is brought up. While usability does incorporate some intangible aspects, for the most part, usability can be tested and the results will be fairly consistent across a range of people. Usability is a large and complex aspect in itself, but it can be summarized as a visitor's reaction of " It was so easy to use, I didn't even have to think about it."
There are four main elements we will focus on here that, if implemented well, can elicit this type of response: navigation, performance, readability, and responsiveness.
Navigation
The aim of navigation is to empower the website user to get from point A to point B with a minimum of frustration. Think of the different goals of the visitors that come to your website and design your navigation around that. On mobile, where space is limited, navigation gets trickier. In mobile site design, it becomes even more important to design with your user's goals in mind.
Navigation provides a sort of security for the website user, an anchor. The navigation defines the "space" of the site and orientates the website user within that space, so they know where they are at all times, and where they can go from there.
Navigation absolutely has to be simple and obvious. This rule involves a number of factors such as the menu's location, the menu design, the number of menu options, and the labels of the menu items. Remember, our goal is to make sure the website user doesn't have to think! Every single website user must be able to easily find the menu item for your painting services, for example; they shouldn't have to hunt for it. Labels must be clear, concise and meaningful — this is not the place for creative, obscure writing.
Performance
A website must load quickly on both desktop and mobile. Website users simply won't wait around, even if they are committed to viewing your site. A website user who has been frustrated by a slow-loading site isn't likely to give it a second chance either.
All the elements of a website that are supposed to do something — elements such as buttons, forms, shop functions and check-out —need to do what the website user expects them to do — easily, consistently and reliably. If the invitation to contact your tax service involves a complicated form with many fields, the website user will most likely go somewhere else.
Readability
As it relates to usability, readability is more about the presentation of the text than the content. It starts with the letters themselves: the font, its style, size and colour against the background. Both serif (with the little embellishments) and sans serif can be legible on a screen, so use whichever fits with your brand as long as it is well-designed. Of course any font will be hard to read if there is not enough contrast between the text and the background. Go for legibility always.
A simple lay-out offers a reassuring order that is easy to read. White space (ie good spacing, not cluttered) is crucial to readability. Most people scan rather than read a webpage to decide if they really want to take the time to read it thoroughly. Breaking the text up into manageable sections with subheadings and images allows for a quick and easy assessment of the content.
Responsiveness
This means that the website is as easy to use on a mobile device as it is on a desktop. Because it is so important, some designers start with the mobile design first, and then modify for the desktop rather than the other way around. Is the text large enough? Are the buttons easy to click? Think about actually using your site on a mobile device.

2. "I got what I needed." — PROVIDING VALUE
Is it immediately apparent to your website visitors what your website is about? Do they know, in that .05 of a second, that your website is about house painting? Could they possibly, even in that short space of time, think it is about something else — maybe tax returns? If the website visitor can't even figure out the purpose of the website, the UX isn't working.
The website visitor should also be able to immediately determine who is presenting the website. Your business brand must be clear and obvious, and consistently so throughout the site. In accordance with this, a website with good UX will also make it easy for your visitors to contact you, if they want.
People usually go to a website to solve some sort of problem, whether that is how to choose a fun colour for their dining room or how to divorse their spouse without acrimony and losing everything. A site with good UX will provide the appropriate amount of relevant information that is easy to find and easy to read and understand.
Your visitors also need to feel they can trust that content and your brand. While all the UX components mentioned in this post help build trust, adding concrete social validation, such as testimonials is very important in small services industries. People will want to read about the incredible house painting you did for others as proof that you will do the same for them.
3. "I enjoyed this website. It made me feel good." — DESIGN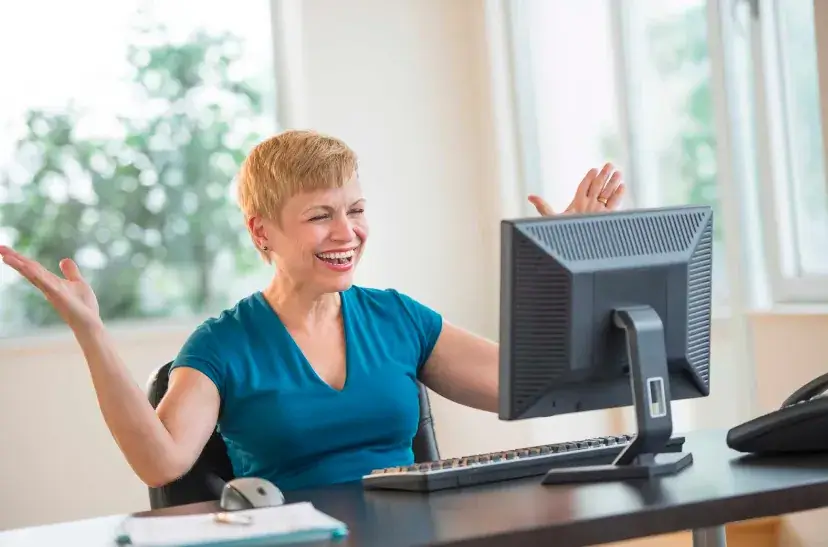 As mentioned at the outset, all these components are entwined; if a person isn't frustrated by the usability of a site and they find what they need, they are more likely to leave with a good feeling. But this section is about the design, or look and feel of the website. This is intimately tied to your brand, and your purpose. Consistency is important.
There is a reason why blue is common in banking; blue conveys a sense of calm authority. Bright pink, for example, probably wouldn't work for the website for an attorney. But, a site for a painter could use brighter colours and include more dynamic diagonal lines.
Does your site give a feeling of quality and attention to detail? If the form fields don't work on mobile and the images are blurry, your site will be judged of lower quality, and your business will be judged the same.
To Sum Up
Ultimately, if a person leaves your site feeling good and feeling like they accomplished or learned something useful, they are more likely to retain your services, leave positive reviews and tell others about your site. This is what UX is all about — making the user feel good.