We designed a website and implemented marketing platforms for a custom home-building company on Vancouver Island. The company is owned by Chase Gamble, an individual who is committed to creating custom home builds that match his customer's vision while also using his creative lens. His work is art, and naturally, we created his website to be a backdrop for his art.
Concepts of Gamble Homes Website Design
When designing a site, it's easy to select bold colours and fonts that are memorable. Branding plays an essential role in an individual's recall memory. Typically, we want to be remembered by what makes us stand out, like fonts and colours. However, for Gamble Homes, we took a different approach. We selected two shades of green, as well as beige and grey…. very mute colours that are the opposite of bold. We chose Merriweather and Roboto as the fonts—which are equally as mute as the colours. You may be wondering why we did that. Who would intentionally choose branding that doesn't deeply embed in an individual's recall memory?
We do, and our decisions are very intentional. Chase views custom home building as an art form. The website serves as a backdrop to his art. It serves to display his completed projects and process images rather than take them way. The muted design is contrasted to his art and his custom home builds speak for themselves through images and copy. His work embeds in an individual's recall memory rather than the branding.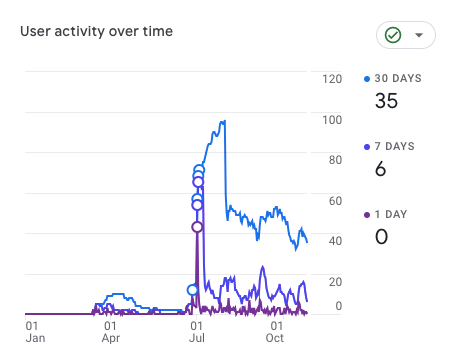 Key Features of the Website Design
Images are a focal point of the design. Rather than having one specific gallery page, we used images throughout the website on every page. When reaching the bottom of the home or projects page, users can scroll through motion images that act similarly to a gallery. This feature enabled us to share project-specific photos and his project highlights.
Another feature we captured in the design is texture and angles. We wanted the website to represent his custom builds, so we created this effect by adding pictures of wood that are "static." This means that the images don't move while the screen moves. We added angles by having unique page breaks, meaning the design is separated into different sections through unique angles and colours. Finally, we added stacked images created in Photoshop by combining multiple images and shades of green and grey into one image. The images are representative of the construction process.
Copywriting for Search Engines
We took no shortcuts when writing copy, and Chase complied with our process and collaborated on many meetings. Chase had all the words he needed to communicate his why. He just needed to be asked the right questions and given the right guidance. As a business owner, you are motivated by your why and customers are sold by your why.

What you have to say holds more weight than what a copywriter has to say when we don't have lived experience of your why. We got to the root of Chase's why and captured that through his website through quotes as well as sharing his core values and beliefs throughout the body of the copy. After images, the second best selling point to customers is testimonials. We included testimonials on the home page and on project pages so website visitors could match the finished results with his clients' experiences.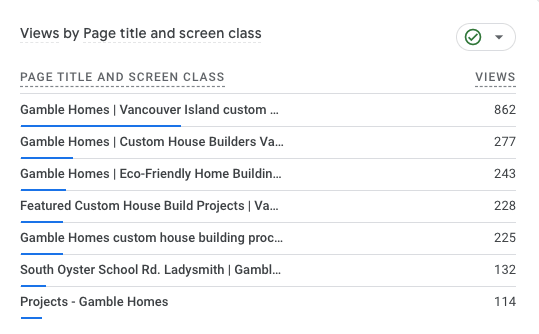 Search Engine Optimization
The site is built following leading standards and best practices for technical SEO. We set up caching, compressed images for a fast load time, and added a sitemap to Google Search Console, to name a few optimization tactics. The site also follows guidelines for on-page SEO. This means that the content on each page is matched up with a search query users are likely to make on the internet. We discovered the top keywords and phrases by looking at Chase's competition and by doing keyword research.
The copy achieves the goal of communicating its messaging while still ranking in search engines. We designed six project pages that not only display Chasea's completed custom home builds but also play an essential role in SEO. Each project page is linked to the location of the build so that when a user searches for custom home builds in a specific area, they will find Chase's website.
Gamble Homes Inc's website was in need of a total overhaul. We wanted a website that would portray our unique values and our passion for building custom homes. It was important that the website portrayed a friendly, warm feel but was also professional and modern. The goal was to leave the visitor feeling well informed about our companies process and comfortable enough to pick up the phone for a chat. Katie; our lead designer, was up for the challenge and executed our wishes promptly. Katie really took the time to listen to our wants and needs. Getting to know our company and its intricacies was only the first part of the journey. The hard part was designing a website that could portray that image to the world. Katie is an exceptional communicator and diligent worker. She was always quick to respond to emails, overly organized and clearly takes a lot of pride in her work! We feel she succeeded in building our very unique website! Thank you, Katie!
Are you curious about what an intentionally muted, artsy, angular, and textured build looks like? Take a look.
Site: GambleHomes.ca