Amy Robertson is a Victoria local who is passionate about helping families reach a separation agreement that is customized for their needs. Amy successfully mediated more than 900 mediations and now trains other professionals in the field. During a separation, parents are often stressed and worried especially when kids are involved. Amy's organization, humour, and attention to detail allow her clients to reach the summit of their separation with ease.
Amy is an expert in her field and easily acquires customers through word of mouth. However, she wanted a new website so that she could better acquire customers online. She wanted the branding to reflect her current business offerings and to not only maintain her organic traffic but also improve her ranking in Google Search Results. 
Website redesign and organic traffic growth Victoria BC
Key Results Summary: 
Link clicks increased by 65%
Page views increased by 86%
Google index position increased by 101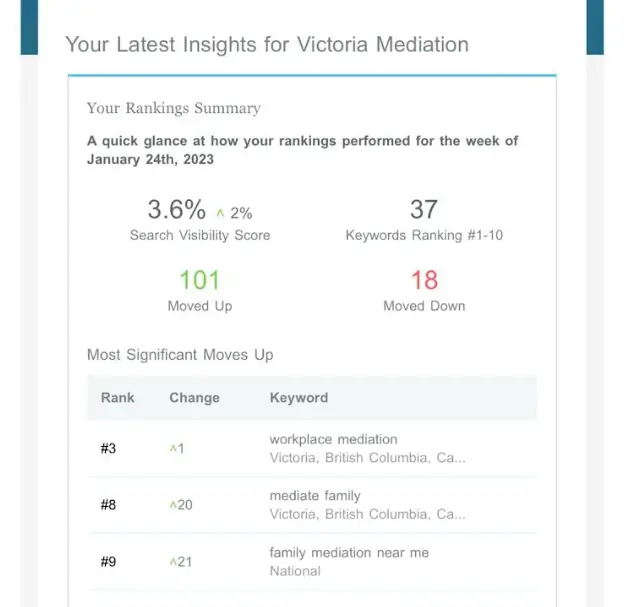 Within two weeks of the website launch, Amy's site moved up 101 places from its previous position. Keep in mind that Google only shows 10 search results per page and that the first page of Google receives from 71 – 92 percent of web traffic. Moving up 101 places on Google's index page has significantly impacted the amount of organic traffic the site receives.  

Within one month, page views increased by 86% reaching 613 page views in one month. According to Google Console, a page view is defined as how many times a user has looked at a website. Not only has she received more link clicks, but she has also gained more qualified leads that spend more time on her site and visit more pages. 

Before the website launch, Amy's website received around 460 link clicks. Two months after the launch, the site has around 710 clicks which means link clicks have increased by 65% and we're continuing to see growth! Conversion Rate Optimization considers how many people take a desired action compared to the number of website visitors. As the site receives more traffic, there is a greater number of people who take the desired action. 
Website design results Victoria BC
We wanted the website to have a positive and uplifting atmosphere while still acknowledging the challenges that people face when going through a separation or divorce. We decided to keep the blue as it was already in her logo and it's a bright, happy colour. The colour, partnered with pictures of Vancouver Island, created a backdrop for her content that made users feel grounded and trusting. Finally, we used graphics to highlight the content on her site and some of her key points including her motto: reduce stress, save time, save money.
Technical Design Victoria BC
To make the website secure, we edited the PHP file on her account to add a Safety Security License (SSL) and to force HSTS to ensure the site is always on HTTPS. Google recognizes when a site is built securely and we make this our priority.
The website is modeled off her previous site map to keep the SEO juice. We also redirected all links that were going to 404-page errors to her new site. For more SEO juice, we rewrote and improved all meta descriptions, and further optimized the content by including keywords in headings and in the body copy.
Amy already had Facebook Business Manager, Google Console, Google Business, and Universal Google Analytics (UA) set up. We gained access to her accounts and reintegrated them into the new website. We also added Google Analytics 4 (GA4) so that she can still have access to website traffic after UA is rolled back. We then added her site to Cloudflare so that we could set up caching and minify JS, HTML, and CSS for a faster load time.
Finally, once the build was completed we did another audit to ensure the site was operating at our standards and that the site was functioning smoothly. We trained Amy on how to add more blogs and make small site fixes. She is now on a maintenance plan and we regularly make updates to her site, theme, and plugins so the website continues to load fast. Finally, Amy gets to enjoy the compliments she's getting about her new site. Most importantly, she gets to enjoy a stronger flow of web traffic and reap the rewards of all that entails for her and her business.