To put it mildly, restaurants are going through a hard time in 2020. Government restrictions that have been imposed to combat the Covid-19 pandemic have severely curtailed the normal dining out experience all across North America. Many people are hesitant to even go to a restaurant, worrying about health risks. Restaurants are fighting for their lives and in the spring, quickly pivoted to reduce seating indoors, and offer expanded patios outside. Many now feature take-out and delivery.
Now, more than ever, a reminder of the fundamentals of digital marketing for restaurants could give you the edge you need to see you through:
Let's take a look how this works.
Messaging for Restaurants During Covid-19
Health is top of mind for most people at the moment, and your messaging needs to address how you will keep your customers safe. Straightforward messaging outlining the measures you've taken to maintain cleanliness and social distancing will reassure your customers that you are taking their health seriously. You need to win their trust and continue to demonstrate to them that their trust is warranted. A banner at the top of your website stating what steps you take is a good idea.
Search Engine Optimization (SEO)
When developing an SEO strategy, you should split it into two parts: on-page SEO and off-page SEO. On-page SEO refers to all the measures you take on your own site which make it easier for search engines to crawl your site and understand and classify your content in order to index it. Off-page SEO covers issues that are external to your website and ensures an inflow of high-quality inbound links. Let's start with on-page SEO first.
On-Page SEO Tips for Restaurants
Keep Your Website Up-to-Date
If you change your menu frequently it's important to update your website. If items are featured on your site, make sure they are available in the restaurant as well or customers will be frustrated. Showcase your current specials or upcoming events on Google to keep customers coming back.
Optimize Your Menu
When people search for a restaurant, they are most often looking for the menu. Menus are so critical for restaurants that they absolutely must be optimized for ranking.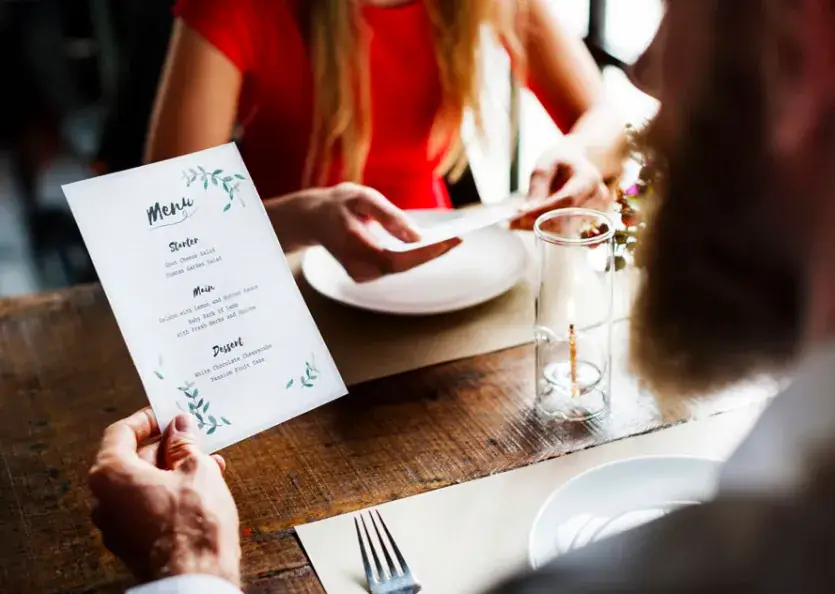 When people search for a restaurant, they often enter the type of food they are looking for (pizza, seafood, barbecue, etc.). Including these types of terms in your online menu where relevant will allow you to match the terms people are searching for, increasing the chances that your restaurant will be displayed in the top search results.
Your print menu design may be quite beautiful, but for your website, you need a HTML version. If you simply upload a JPEG or PDF of your menu, you will not receive any SEO benefit. The text in a pdf or image is not visible to search engines and they will have no idea what type of food you serve. Instead, enter your menu as text on the web page and also as a PDF, with a link to download and print the menu. Doing this allows search engines to effectively index your offerings while your customers can still easily print, save, or share your menu.
Make sure to include your business address, phone number, and website link on the pdf menu. PDFs often get saved onto other websites, so having your link embedded within it makes sense.
Display prices, avoid small-print, list all specials and coupons offered and all related searches for discounts, special deals and such, may improve your chances of getting consumers to choose you versus other restaurants. Consider also listing happy hours, special rates, theater menus, tasting menus, etc. Do not include special rules, exclusions and warnings, minimum purchases and other consumer-unfriendly terminology, since this may scare people away.
Make Sure Your Restaurant Website is Mobile-Friendly
When people are on the move and want to find somewhere new to eat, typically they will use their phone to search. If your site isn't mobile friendly, potential customers are going to quickly leave your site (bounce) when they can't find what they are looking for. Your easy-to-find hours, homepage, about us, and menus should all look great on all mobile devices. A good developer knows to test your site across all devices and browsers for compatibility.
Leverage the Map Feature of Search Engines
When someone searches for "restaurant in Cowichan Valley," the results from Google Maps are displayed first. We recommend that you rank on search engines that offer a map feature. Google is the most important since 80% of all searches are done through Google, but it's worth taking the time to get listed on Bing, Yahoo, Yellow Pages, etc.
Use Geo Targeting
Make it clear to the search engines where you are located. The best way to do this is by referring often to your city and state on your site and in your metadata (ex: Hartford, CT or New Haven, Connecticut). Add them to your title tags, meta descriptions and image attributes (IMG ALT) and don't forget to include them in your page copy, your menu, and in your blog postings.
From GPS systems to smartphones, when people want to find somewhere to eat they rely on technology to help find the right restaurant. Search engines decide which restaurants to show, by comparing and matching the search terms to the data they have collected from across the web.
Content is King
Providing more detailed information helps you rank better in search engine results pages (SERPs) and it provides customers with more reasons to choose your restaurant. In general, but especially with Covid-19, focusing on locally-grown food, organics and special diets will tap into people's current concerns. You can also provide specific menu pages for salads, appetizers, soups, entrees, deserts, drinks, poultry, seafood, pasta, beef, lunch, brunch, dinner and for holiday meals. Doing this lets search engines index more keyword terms helping interested foodies find you more easily.
Off-Page SEO for Restaurants
Use Social Media to Distribute Content
Social networks play an important role in supporting a restaurant's website. They are used by billions of users around the world, and numbers are continually rising. According to its own figures, Facebook alone had over 1.7 billion active users in the second quarter of 2016.
Beyond Facebook, there are several other important social networks, such as Twitter, Tumblr, Instagram, Snapchat, and Pinterest. Social networks for professional purposes, such as LinkedIn and XING, also play an important role in distributing traffic and linking to websites.
Search engines take into account the traffic generated by links from social networks. These "social signals" can positively influence a website's ranking — at least when search queries relate to something current.
In addition to using social networks to acquire potential new patrons, generate leads and build brand awareness, keep in mind the SEO benefits of having a brand presence on social networks. For example, ensure that your content can be easily shared. The easiest way to do this is to put buttons for social networks on your site. Keep in mind, when using social networks, that you should also maintain these channels and regularly "feed" them new content.
Register with Online Directories and Reviews
According to Yelp's Data Science team, Yelp users are 33% more likely to upgrade their review if you respond with a personalized message within a day. It is reasonable to think this is the case for most review based sites.
While it's difficult to stay on top of every single review site, it is important to respond publicly when customers have legitimate concerns or if there is a simple misunderstanding. Use the review process as an opportunity to address their concerns, explain your policies, and invite them back.
Make sure that you claim your listings on all of the restaurant directories, such as Yelp and Urbanspoon. These sites almost always show up on page one of the search results.
Wrapping Up
Now is the time to make sure the online presence for your restaurant is tip-top. Not only will this help you through the current difficulties, but the benefits will continue once everything is back to normal and people can once again take pleasure in dining out without worry.